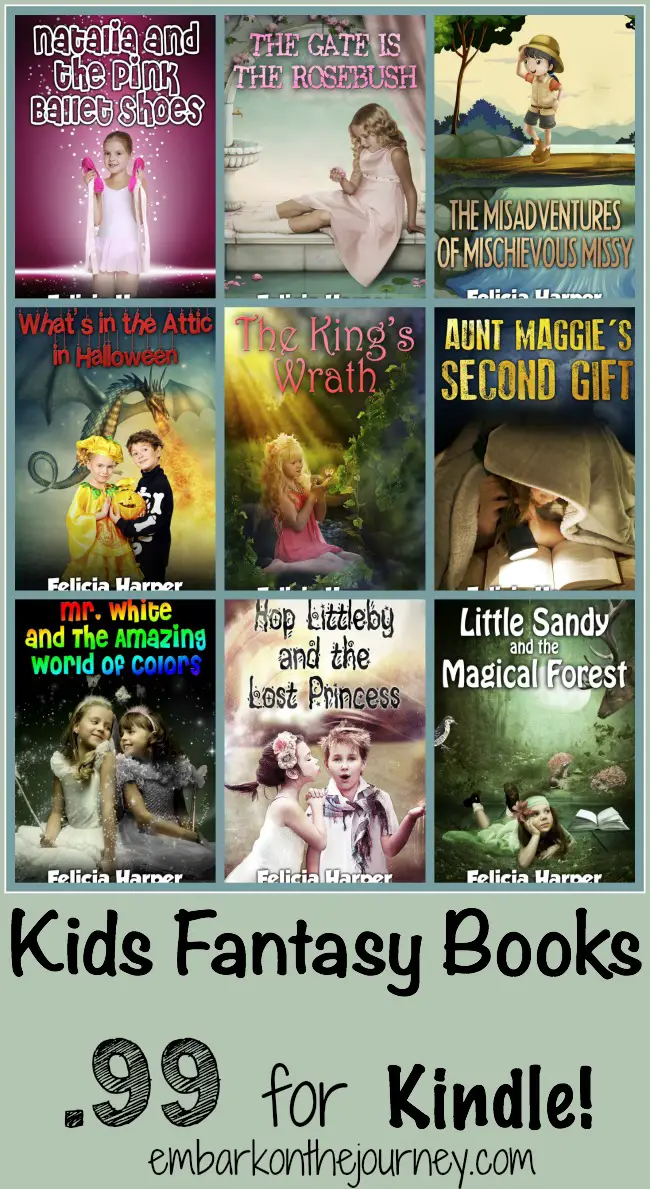 Please remember, Amazon prices can change quickly. The books below were free at the time this post went live, but may only be so for a limited time. Please double check the price before purchasing any of the books below.
Kids Fantasy Book Series
For ten year old Tiffany, the world of fantasy was more interesting than reality. She preferred the company of fictional characters over those of her real friend's and is often lost in the books that fill her room. This has caused many arguments between her and her mother; and they grew distant by the day. One evening, while her mother and two brothers were away, her Aunt Maggie comes over to babysit and brought with her a secret second present. Little did Tiffany know that this present would take her to a place that's beyond her wildest imaginations. Teaching her, not just the value of believing that magic can be found anywhere but also finding the balance between what she loves and what her mother wishes for her to do; be more sociable.
Alice likes her family's new garden. In fact, it is a dream come true. She has always liked plants and known that she is good at gardening since she was allowed anywhere near the tools. Now she has her own corner of the immense garden with a magnificent rosebush tucked like a marker in it. But one moonlit night, she went out to check her rosebush and she finds a strange boy emerging from it. Now, just because she decided to investigate the incident, she is swept into an adventure into the glittering underworld found beneath her family's garden. Are fairy princes supposed to pop out of flowers like this one does? Will she be able to assist him in telling the King and the Queen about his thoughts and go home safely to her parents?
Hop Littleby and the Lost Princess
Join Hop Littleby on his quest to find the lost Princess of the Kingdom, his meeting with the strange woman in the small, but lavish hut, and his encounters with Lords and Ladies who will stop at nothing to steal Hop's glory. Learn all about what bravery really is, and how intelligence and understanding trump any material wealth. If you love tales of adventure, magic and friendship, then Hop Littleby is your hero!
It was always her brother, her no-good scatterbrain of a brother. Who cares if he's the top student at the Academy of Magic? He's still the most troublesome creature in the world for Dawn Banner. And now here she goes again, running around to clean up after Twilight. Will Dawn be able to fix up everything before their parents notice that they are gone? And Twilight has no right to say that she's a nosy, meddlesome fool! The May Day celebrations are coming to a head, but Dawn can't seem to get out of that irksome forest. What can she do to appease the angry King?
Jin-Jin and Eli were best of friends. They even liked the same things. Despite being similar, Jin-Jin believed that Eli was better in every possible way. She thought that her mom picks on her simply because she wasn't as good as Eli. She started to hate her mom, and began to feel envious of Eli and his perfect life. Everything changed when Eli's parents sent a mysterious mirror. Being the curious children that they were, Jin-Jin and Eli just had to check it out. The seemingly boring artifact sucked them in and transported them into another world. There, they had to choose between two things – to live a different life, or to return to those who love them. What was their decision? Did Jin-Jin continue to hate her mom, or did the experience change her feelings? Was Eli's life really perfect? Discover the answers to those questions by reading The Mirror of Z!
Vanessa is her father's princess. And a princess is supposed to get everything she wants, because she IS a princess. If she doesn't, she will kick and cry and scream until she gets what she wants. And so she always gets her way. But princesses get not only good things but some bad ones too. What will happen if a genie-looking guy kidnaps Vanessa because she is supposed to be a princess? Because Vanessa believes princesses are princesses, she lands herself in an adventure that doesn't even seem to be in HER world anymore. Scared and far from home, will Vanessa's princess-ness save her and her new princess friends? And she really doesn't like these strange-skinned men who call themselves gin-jane-djinns.
Little Sandy and the Magical Forest
This book features a little girl who is not like the other girls in her town. She is someone brave, friendly, thoughtful, and helpful. One day, while her father went to the market, the little girl named Sandy went to the forest alone. Here, her bravery, friendliness, thoughtfulness, and helpfulness were put to the test. Deep in the forest lie many secrets, secrets which she was never aware of before. A lot of things happened, and these things were beyond her wildest imaginations. On this certain day, she met several forest creatures who became her friends. Together, they ventured into the forest and helped animals and magical creatures in need.
Natalia and the Pink Ballet Shoes
Just like any ballerina, Natalia's only wish is to be able to perform in front of a large audience in a show where she is the star. When the dance company decided to give her the lead role of Clara in the classical ballet show, The Nutcracker, Natalia felt that this will be the answer to her prayers.
Mr. White and the Amazing World of Color
The world began as a lifeless and colorless place. Colors were then added to make it beautiful and vivid, thus becoming an amazing world of colors. But before this was successfully done, fairies fought, colors got mixed and matched, and it was impossible to get things straight. How it was all done is going to be a story that you will never forget!
The Misadventures of Mischievous Missy
This is a story about a young girl named Missy who lives in a village near the forest with her mother, father and grandfather. They all adore her but more often than not, she annoys her family with her mischievous ways. She loves playing pranks and doing things that make her mother scold her all the time.
What's in the Attic in Halloween?
"What's in the Attic in Halloween?" is a story about a young girl named Merlyn and her cousin Joe. Merlyn just turned ten and feels more mature than ever. Nevertheless, because her birth date falls on Halloween, costumes are mandatory. For the first time in ten years, her mother offers her a beautiful ice queen costume; unfortunately, Merlyn believes she's not that kind of girl. She tries to find her identity by asking her cousin Joe to help her find a new costume: a sorceress' armor. The search led them to the attic where a magical trunk awaits them. They get sucked inside the chest and into a whole new world. Merlyn finally finds pieces for her costume but in return, she gets hunted down by a vile creature that takes Joe hostage. Merlyn is able to escape thinking that Joe has escaped as well. She returns to the real world, celebrates her party, but realizes that Joe has not come back. She tells herself that the mature thing to do is go back and save him.
Princess Shinglina Moonshine was as beautiful as the moon. She had a lovely enchanting smile. Her tears were like pearls. Her hair was like silk. She had rosy cheeks. She had a melodious voice. The moon was her home. She lived in a castle made of silver. The doors were made of gold and were studded with precious stones and gems. There was a big glass window in her playroom from where she could see the rainbow. Whenever she got bored of playing on the moon she would go and swing on the rainbow. Otherwise, she used to go and play on the stars. It was great fun.