I am a dance mom, and I have been for 8 years now. My favorite time of the dance season is Nutcracker season. I love everything about it.
I love the music. I love the choreography. I love the tutus
and pointe shoes
. Of course, I love watching my own ballerina on stage.
Every Christmas, I sit through hours and hours of rehearsals and many performances. Every year, Emma gets a new Nutcracker
to commemorate her performance. Needless to say, we have quite a Nutcracker collection.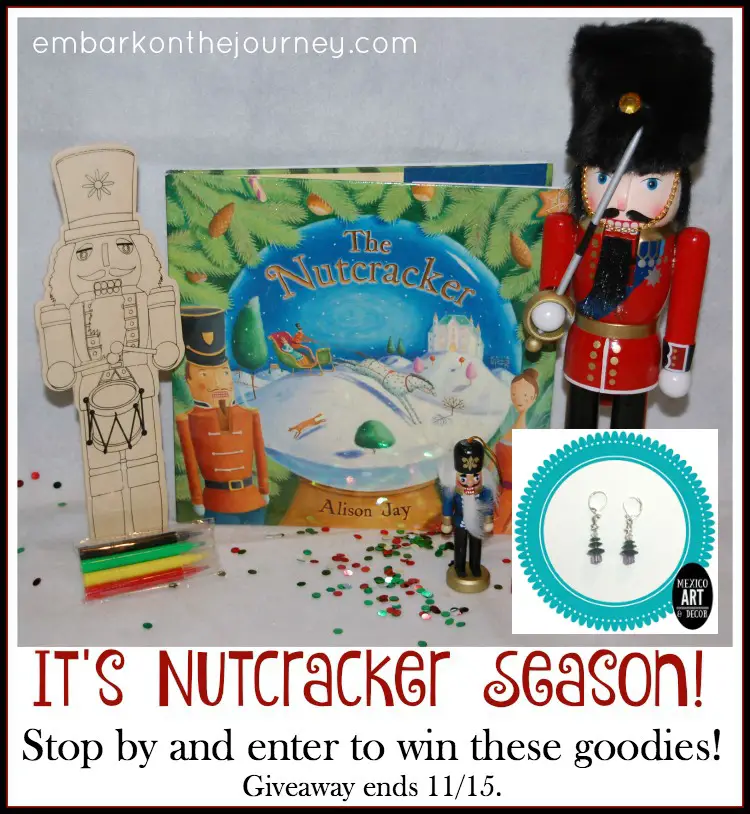 Nutcracker Christmas Giveaway
In honor of our upcoming Nutcracker season, I'm giving away a fun collection of Nutcracker-themed goodies! The winner of this fun giveaway will receive the following:
A 15″ wooden Nutcracker soldier ~ This beautiful soldier wears a red coat with gold trim, black pants, and black shoes. He sports a "fur" hat with gold chain chin strap. His black beard is the finishing touch.
A 4″ wooden Nutcracker ornament ~ This little guy sports a blue jacket with white accents. He has white hair and beard, and has a gold hanging string.
An 11″ wooden color-your-own Nutcracker with 4 markers – This fun craft is made of thin wood. Kids will enjoy coloring their own Nutcracker which they can then display in their favorite place throughout the holiday season.
The Nutcracker by Alison Jay ~ Based on the Balanchine ballet, this sumptuous package is the perfect gift for any fan of The Nutcracker-young or old. The nicely balanced text (not too much, not too little) captures all the best moments and sets the stage for Alison Jay's richly imagined art. Sharp-eyed readers will notice tiny details playing out thrillingly over the course of the story (keep an eye on the gifts under the Christmas tree!). From the cozy Christmas party to the delectable Marzipan Palace, Alison Jay's artwork is truly enchanting-a snow-globe version of The Nutcracker to read every night before Christmas and all winter long.
A pair of Christmas tree earrings from Mexico Art and Decor -The sweetest Christmas Tree you've ever seen! Perfect for the holidays for kids and adults! Emerald Swarovski lochrose flower crystals make up the tree with a shiny silver star on the top.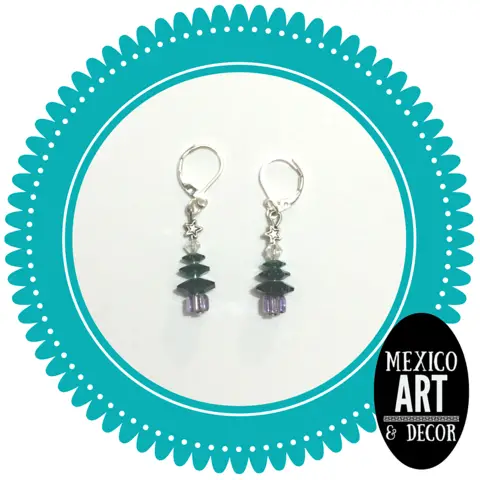 ---
The Homeschool Blogging Connection team is thrilled to bring you a collection of Gift Basket Giveaways! Each blogger participating is hosting a giveaway for a fun basket of goodies. Aren't they fabulous????


Basket of Musical Fun includes an Ocarina set (12-hole ceramic ocarina, padded cover, songbook), Music Note Earrings from Mexico, a Christmas CD, and Music Appreciation Curriculum from I Choose Joy with a total retail value of $75!
Keep Christ in Christmas with Melk the Monkey! includes a Plush Monkey, Melk, the Christmas Monkey Book; The Birth of Jesus Activity Book; Nativity Stickers; and a Gingerbread Cookie Cutter from Homeschool Preschool with a total retail value of $35.75!
Countdown to Christmas includes A lovely selection of Christmas decorations, gifts, and books from A Glimpse of Our Life with a total retail value of $75!

(COMING SOON!) Reindeer Games Preschool Party from Only Passionate Curiosity
Nativity Gift Basket Giveaway includes The Story of Baby Jesus picture book, a Nativity Set 18 Piece Christmas Puzzle Handcrafted wooden toy, a Little People Nativity Set, and The Christmas Story Lego Challenge (digital download) from Proverbial Homemaker with a total retail value of $91.97!
All About You Gift Basket Giveaway includes a FABRIC TRAVELERS NOTEBOOK, Set of oil diffuser bracelets, Wait Only Upon God devotional, and hand-painted art from Purpose Living Wife with a retail value of $50!


Sanity-Saving Giveaway for Stressed-out Moms includes an ESV Journaling Bible, the Live Loved Adult Coloring Book from Bethany House, a Prismacolor Pencils 12-Color Set, an Antique Bronze Diffuser Necklace from The Oil Collection, a Lavender Essential Oil (15 ml) from Mountain Rose Herbs, a $10 Starbucks gift card, and Putting on the Spirit: 10-Minute Devotions for Busy Moms by Katie Hornor all from Ben And Me with a total retail value of $100.

Faith-Filled History Giveaway includes The History of Religious Liberty by Michael Farris, and 5 books from the Christian Heroes: Then and Now series by Janet & Geoff Benge: Lillian Trasher: The Greatest Wonder in Egypt Wilfred Grenfell: Fisher of Men Loren Cunningham: Into All the World Florence Young: Mission Accomplished Sundar Singh: Footprints Over the Mountains plus a Drive Thru History DVD Discovering America's Founders and a Kids Travel 2016 Calendar by Katie Horner all from Write Bonnie Rose with a total retail value of $98!