I cannot believe we are at the start of another brand new year!
A year full of amazing possibilities. A year of growth and memory-making. But, before we embark on a brand new year, it's always helpful to look back and reflect on the year that just ended. Doing so allows us to look back to set new goals for moving forward.
So, as I sat down to plan out the things I want to write about in the upcoming year, I took a look back at what you guys liked in 2016.
You loved my printables, and for that I am so thankful. Those are my favorite posts to share. However, you also enjoyed some free resource posts and homeschool encouragement. Let's take a peek at my most popular posts from 2016
Top Ten Posts from 2016
#10 – Children Around the World Printable
This 76-page printable contains writing and coloring pages featuring 12 countries from around the world.
#9 – Polar Express Printable and Activities
This is one of my own favorite packs based on one of my favorite Christmas movies! With over 100 learning pages, kids in grades PreK-3 will enjoy hours of Polar Express learning activities. In addition, I've rounded up a handful of hands-on activities that will help bring the story to life.
#8 – Homeschool Lies I Once Believed
I've been homeschooling for sixteen years! Over the years, there have been a few lies I believed that threatened to derail my homeschool journey. In this post, you can read about those lies, and the truths I've discovered since.
#7 – Easter Printable and Activities
In addition to creating a fun Easter printable, I rounded up a great list of Easter-themed snacks, activities, and books so you can make the most of your Easter-themed homeschool lessons.
#6 – Big Red Barn Printable and Activities
In the summer of 2015, I did a month-long series featuring printables based on popular picture books. One of those printables was based on The Big Red Barn by Margaret Wise Brown. My Big Red Barn printable and activities list continues to be one of my most popular posts!
#5 – The Enormous Turnip Printable and Activities
Another printable from that series is based on The Enormous Turnip. That printable and activities list makes the #5 spot on this year's Top Ten list.
#4 – Frozen Printable and Activities
Inspired by my nephew's love for Anna and Elsa, I created a Frozen-themed printable with over 35 learning pages. There's also a list of fun Frozen-themed hands-on activities little ones will enjoy.
#3 – Gingerbread Man Printable and Activities
I love the Gingerbread Man story, and you guys loved my Gingerbread Man printable and activities list geared toward preschoolers and kindergarteners. It continues to be a favorite all year long.
#2 – 10 Ways Tweens Can Make Money
As my kids get older, I look for opportunities for them to earn their own money. This teaches responsibility and money-management since I decrease the amount of "fun" things I buy for them as their ability to earn their own money increases. Here are 10 ways tweens can earn money close to home.
#1 – 11 Free Homeschool Sites
With over 25K views in the past year, my 11 Free Homeschool Sites post makes the #1 spot on this year's Top Ten list! Like me, you guys love finding free resources to supplement your homeschool studies. This not only makes homeschooling more affordable, but it opens up new possibilities for engaging your learners. If you aren't one of the 25,000 people who've viewed this post, be sure to do so now! You may find an amazing new resource that will rock your homeschool in 2017!
There you have it, folks! The TOP TEN posts from Embark on the Journey for the year 2016! This list has inspired some new posts for the new year, but I'm always open to suggestions. If you have questions you need answered or a resource you need created, feel free to email me or leave a comment on the blog! This blog wouldn't be successful without you – my readers, and I am navigating the homeschool waters alongside you!
Interested in more Top Ten posts from some of my favorite homeschool bloggers? Click the image below for more homeschool encouragement and inspiration.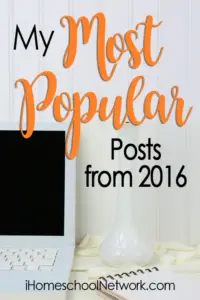 More Homeschool Encouragement