When I hear about someone who has been homeschooling for a long time, I think "Man, they must have it all figured out by now." Then, I realize that there are homeschool mommas who look at me and think the same thing.
You see, I've been homeschooling for thirteen years. I've taught all grades from preschool through graduation. I've had one go off to public school for high school. I've had one try high school only to come back home, because it wasn't a good fit. My youngest is heading into middle school at home with me this year.
You'd think, by this point in my homeschool journey, that I'd know what I was doing by now, huh? Well, I do – kind of. But, there are times that I allow some lies to rise to the surface and distort my view of this homeschool blessing. I never even realized that I was believing these things. Nor did I realize that they were sucking the joy right out of my homeschool.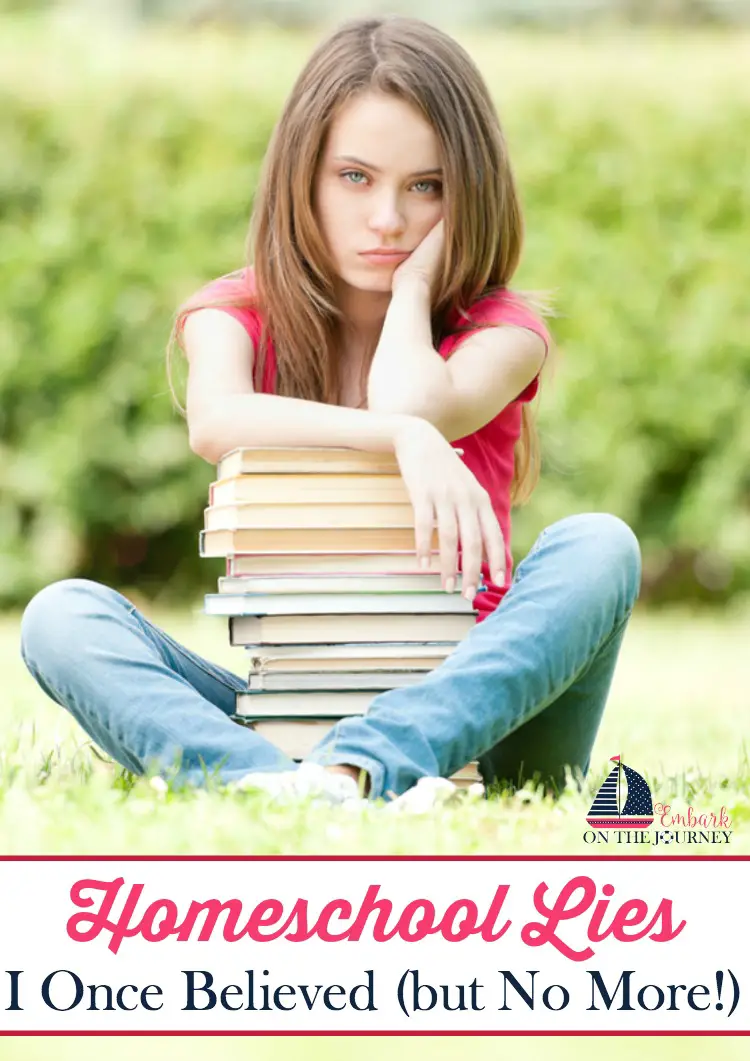 Homeschool Lies
There Is a "Perfect" Curriculum for My Family
I used to ask people for their opinions about what curriculum we should use. I used to read blogs and become convinced that whatever I was reading about was the solution to my current problem. So, I would order that next great thing, and realize that it wasn't a great fit either.
I can't count how much money I wasted looking for the perfect curriculum. What would hook my kids on reading? What would help my son learn to spell? What would make history more fun?
After many years – and many wasted dollars, I realized that there is no one-size-fits all curriculum. What works for one family or even one kid in my own family may not work for my family or another kid in my family. Each kid's learning style is different. Family dynamics are different.
There is no such thing as a "perfect" curriculum. There's only the one that works right now.
It's Possible to Have It All Figured Out
I used to think that once I found a curriculum that worked for my family all our stress would be gone. Because I'd found the "perfect" curriculum, everything would be smooth sailing. Really, I've been homeschooling for 13 years. Shouldn't I have it all figured out by now?
Oh my was I wrong! As I said, just because something worked for one of my kids didn't mean it worked for all. Take spelling for instance. I found the perfect curriculum for my oldest on my first try! We trucked through Spelling Power
for a few years before my middle one was old enough to start it.
Bam! We hit a brick wall with him. Learning spelling rules wasn't working for him. I purchased three more spelling programs before I found one that worked for him. Spelling Power worked like a charm for my third child.
I have learned over the past 13 years that I do NOT have it all figured out. I still struggle through some days. I still purchase books that don't work. I still over- or under-schedule our days. I still lose my cool when things don't click as quickly as I think they should.
Breaking Free from the Lies
These lies are destructive. They create self-doubt. They lead me to sabotage my own success on this homeschool journey. They shake my confidence when things are going well. Even though I know these thoughts are lies, they still resurface from time to time and make me question myself.
So, I work to remind myself that these are lies. They are not the truth therefore they should have no impact on my outlook for the day or the homeschool year.
What homeschool lies have you believed? And, how do you break free from them?
This post has been shared at Grace & Truth.