On Groundhog's Day, February 2, the nation watches as Puxatawny Phil emerges from his burrow to predict our weather. If he sees his shadow, there will be six more weeks of winter. If he doesn't, spring is just around the corner.
There are so many fun ways to incorporate Groundhog's Day into your daily lesson plans and activities. From math and science to reading and crafts, pull some activities from the lists below to have some groundhog learning fun!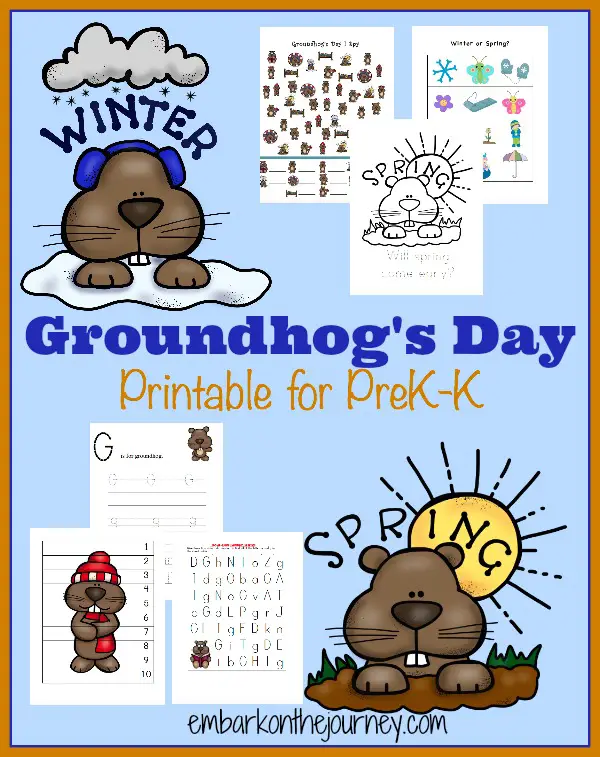 Groundhog's Day Printable and Unit Study
Free Printable
I've created a fun little Groundhog's Day printable for your little ones in grades PreK-K. In this 20-page printable pack, you'll find the following activities to entertain your kiddos:
Skip counting puzzles
Letter hunt
Handwriting practice
I Spy
Writing prompt
Spring/Winter sort
Coloring pages
and more…
To download your free printable pack, please enter your information below. You should receive your download link within the hour. If, after an hour, you have not received your link, please contact me and we'll figure it out together.
*Please note: Your link will expire in 48 hours. If it expires before you download it, reenter your information below and you will get a new 'live' link.
[wp_eStore_free_download_squeeze_form id=8 button_text="Download Now"]
Hands-On Learning Fun
Groundhog's Day Reading
Are you hoping he sees his shadow? Or not?