Emma loves to do art-related projects in her spare time. Due to some health issues that have kept her out of dance classes for the past few months, she has had more spare time than she can fill some days. She has been finger-knitting, crafting, painting, drawing with chalk pastels, and filling up her adult coloring books.
She and her bestie have even tried to master the fine art of bubble letters. You remember those don't you? I remember my friends and I doodling our names (and our crushes' names) when I was in school. Oh, we filled notebook after notebook with names and words filled in with checks and dots and chevron patterns. Never, though, did ours ever look like Emma's newest creations will when she's mastered the technique!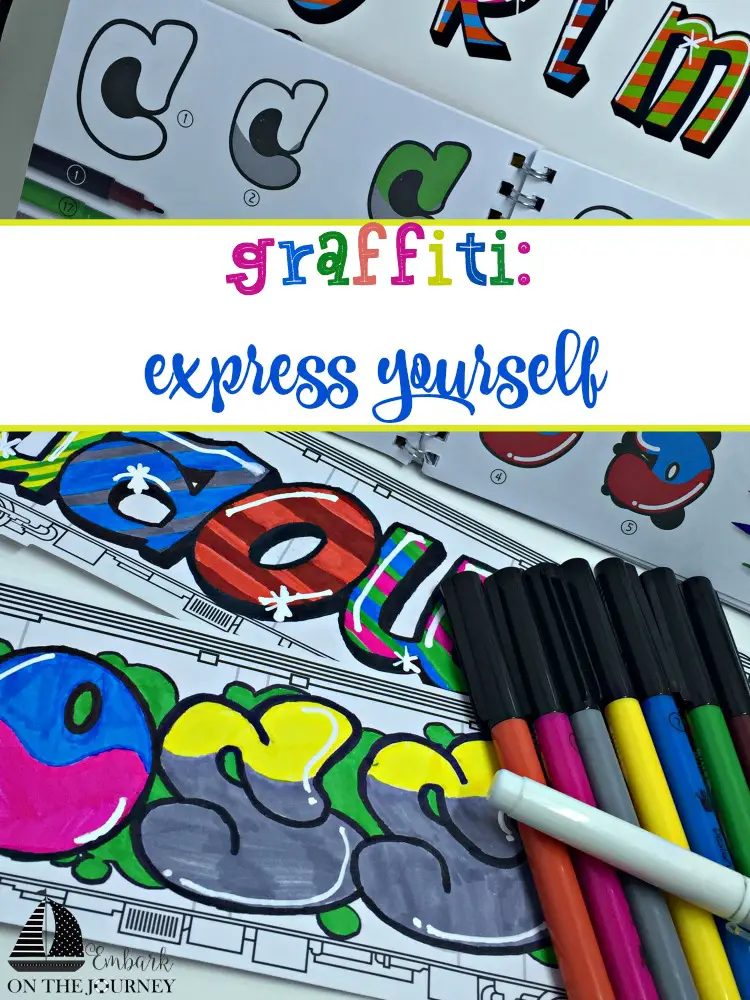 Graffiti: A Fun Way to Express Yourself
Djeco's Draw Tags art kit is so much fun for young artists who are itching to try something new. It's unlike any other art kit we've ever seen. Under the guise of teaching them street graffiti (I'll talk more about my thoughts on this in a bit), kids learn how to turn their illustrated words into a one-of-a-kind piece of art work.
The Draw Tags art kit comes with six pages of train car images with bubble-letter words printed lightly on them. This is the beginning template for kids to start practicing their art. With any of the eight double-sided markers included in the kit and the detailed instruction booklet, kids can get their creative juices flowing right from the start.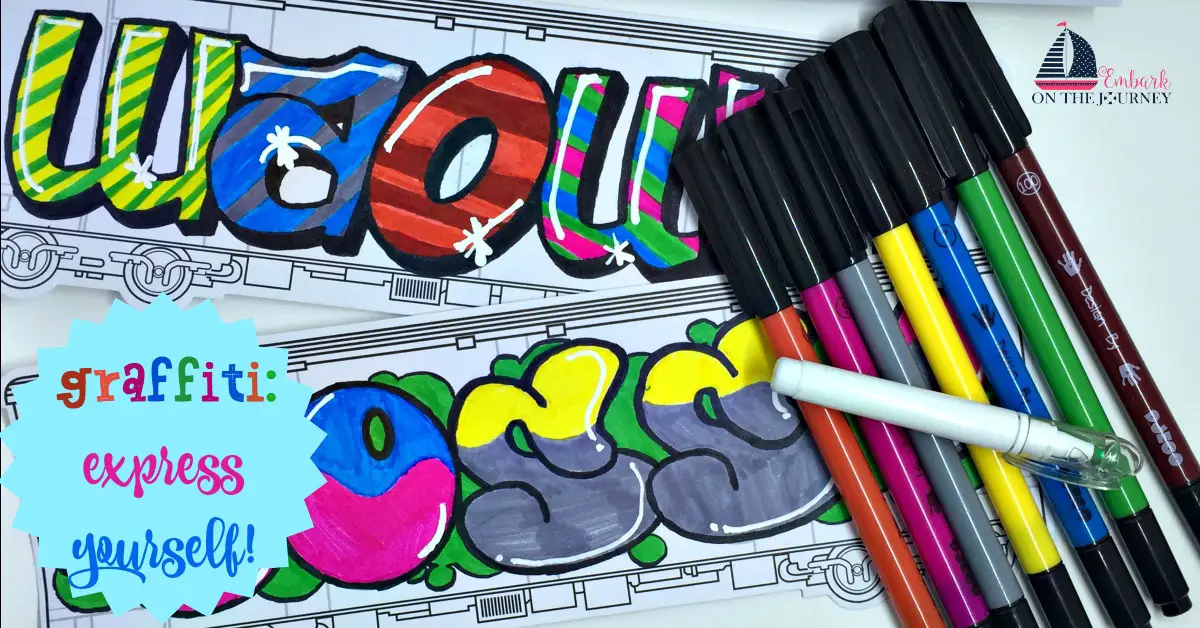 The instructional booklet give several different examples of letter styles, and then it gives step-by-step picture instructions showing how the kids can color in each letter. They show different design techniques and color combinations.
Emma's favorite part of the kit, however, is the white paint pen. With the white paint pen, she can add details and flair to her designs.
Once kids have mastered the practice pages (train cars), they move on semi trucks! There are three semis included in the kit. The cabs are full color, and the kids decorate the trailer. This is where they move from lined art to freehand. Then, they move onto decorating a city scene. There are three fold-out scenes included in the kit.
[bctt tweet="The Djeco Draw Tags art kit from @TimberdoodleCo is a fun way to intro kids to a fun new style of art! Check it out! http://bit.ly/223z98S"]
Emma is still working her way through the train car pages. She's practicing different coloring techniques, paint pen details, and the art of not smearing wet marker. She can't wait to move on to freehand work on the semis. This kit provided hours of constructive free time while she battled a head cold last week.
My thoughts on teaching kids to tag… Honestly, I have no problem giving Emma this art kit to create with. I do not for a second think this is encouraging her to go out and try her hand at street graffiti. She knows that's wrong, and she knows there are legal consequences to it. And, I don't think creating these art pages has ever made her think about taking it to the streets. If your child might be inclined to try this artwork out on a real building, train car, or semi truck, I suggest looking for another form of art with which they can express their creativity. 🙂
I received this item from Timberdoodle in exchange for an honest review. All opinions are my own.