If you are looking for a fun family devotion to use this Christmas season, look no further. Good News of Great Joy by Rachel from Thriving Home is a once-a-week devotion designed for children ages 2-11. It is designed to help your family focus on the story of Jesus' birth, who he is, and why he was sent by God to be with us.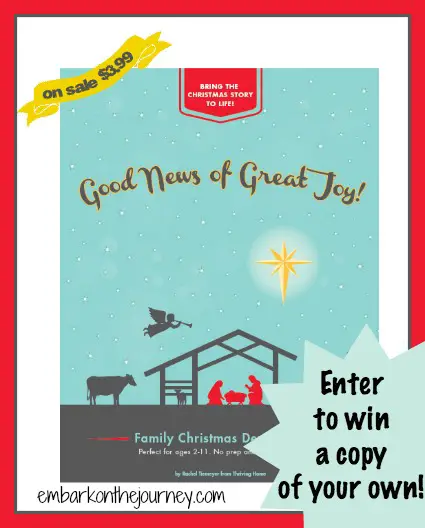 Good News of Great Joy Devotions
How it's set up
This is a short, but very thorough, family devotion. Each individual devotion (a total of four) teaches a different part of the Christmas story starting with Mary and Joseph, continuing to the Shepherd and Angels, moving on to the story of the Wise Men, and wrapping up with a review and a birthday party for Baby Jesus.
For ease of use, each of the four devotionals are organized in the same way. First, parents choose one or more ways to tell the story depending on the age of the children. Secondly, take a minute to pray over the Bible story. Finally, discuss the lesson to help kids understand and connect to the story. Choose an activity to bring the Christmas story to life.
Where to get your copy
You can buy your copy of Good News of Great Joy HERE. It is Rachel's hope that as you read and talk about the story each week with your children, your hearts will be captured by the "good news of great joy" this Christmas season.
Want to win a copy?
It's not too late to get started on this Christmas devotion. Enter below to win a copy of your own, and get started this week.