Pumpkins, pumpkins, everywhere! It's that time of year again. Pumpkin season! I see pumpkins everywhere I go. There are pumpkin donuts, pumpkin coffees, and pumpkin shakes. There are pumpkins on porches and pumpkins at the entrance of every shopping center we enter.
Kids love to explore pumpkins. Take your little ones to a pumpkin patch and let them pick out their own pumpkin to carve or to place on the front porch for decoration. Be sure to pick up an extra one just to explore.
Let them use their five senses to explore the pumpkins:
What does a pumpkin sound like when you thump it?
What does the shell feel like? Is it hard or soft? Is it bumpy or smooth?
What does the inside feel like? Is it slimy?
What does it smell like? Does it smell the same as a cup of pumpkin pie filling?
What does it look like? Describe its size and shape. Describe its color.
What does it taste like? Make some muffins or pancakes. Roast the seeds for a tasty snack.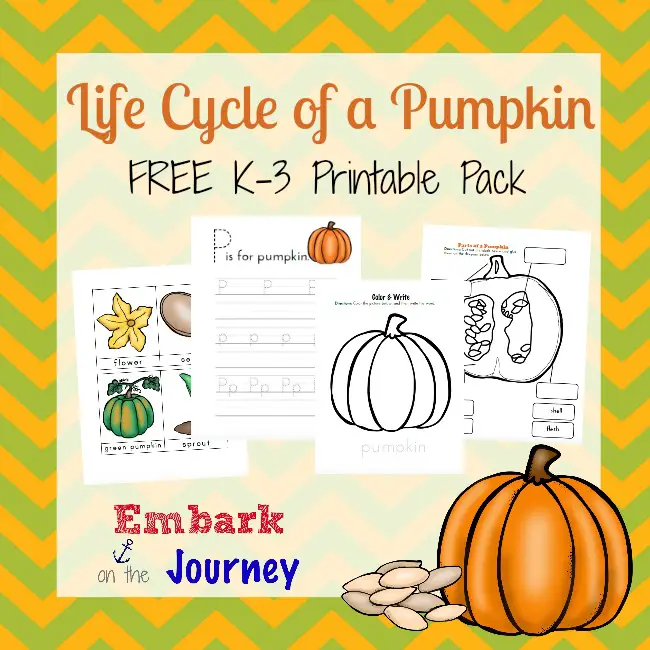 Life Cycle of a Pumpkin
Once your little one has explored their pumpkins, talk with them about how pumpkins grow. Watch a video like this one:
Read one or more of these great pumpkin books:
Complete one or more of these fun hands-on activities:
FREE Life Cycle of a Pumpkin Printable
Now that you've done some exploring, how about a fun printable pack! Inside this fun printable pack for grades K-3, you'll find the following learning activities:
Handwriting practice
3-part cards
Sequence cards
Life cycle chart
Label the parts of a pumpkin
and more!
To download your free printable pack, please enter your information below. You should receive your download link within the hour. If, after an hour, you have not received your link, please contact me and we'll figure it out together.
Please note that your link will expire in 7 days, and it can only be downloaded twice. Be sure to download and save it once it arrives in your inbox.
[wp_eStore_free_download_squeeze_form id=55 button_text="Download Now"]
Linking up at these parties: Littles Learning, Talented Tuesday, Parent Teacher Meetup, Titus 2 Tuesday