I found some free Thanksgiving books for Kindle on Amazon the other day, and I want to share them with you. We haven't read them all yet, but I did grab some to put on Emma's Kindle. She likes to read her Kindle while we eat lunch and in the car.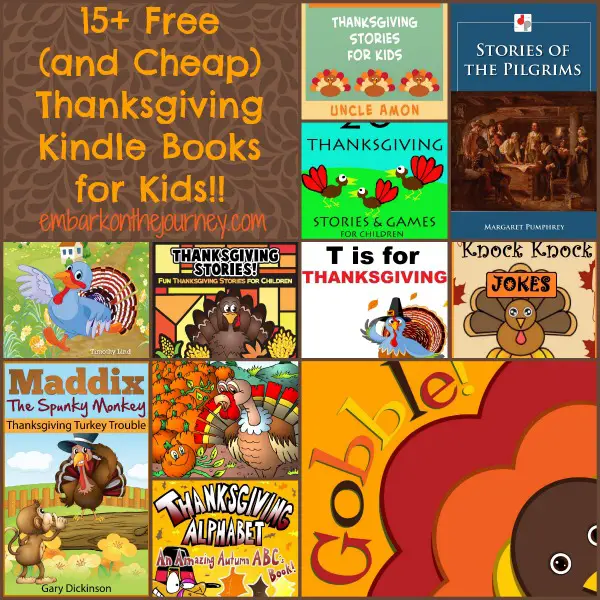 Free Thanksgiving Kindle Books
Be Thankful for the Little Things: Fun Rhymes and Pictures to Teach Kids About Gratitude by Louise Folger
Be Thankful: Thanksgiving Stories for Kids by Arnie Lightning
Thanksgiving Stories: Cute Thanksgiving Stories for Kids Ages 4-8 by Uncle Amon
104 Funny Thanksgiving Knock Knock Jokes for Kids by Ryan Williams
Thanksgiving Tongue Twisters for Kids by Riley Weber
Cheap Thanksgiving Kindle Books
Many of these books are free if you have a subscription to Kindle Unlimited. Otherwise, they are cheap – most are under $1.
Gobble! Thanksgiving Stories for Kids by Arnie Lightning
T is for Thanksgiving by Sharlene Alexander
Thanksgiving Alphabet: An Amazing Autumn ABC's Book by Riley Weber
Thanksgiving Joke Book for Kids by Johnny B. Laughing
20 Thanksgiving Stories for Children by Shane Alex Lee
Stories of the Pilgrims by Margaret B. Pumphrey
Maddix the Spunky Monkey's Thanksgiving Turkey Trouble by Gary Dickinson
The First Thanksgiving for Kids: How the First Thanksgiving Came to Be by Ian D. Fraser
Be Thankful: Thanksgiving Stories for Kids by Arnie Lightning
Holiday Hoopla: Thanksgiving Beg for a Turkey Leg by Timothy Lind
The Turkey Mystery Rhyme by Moe Zilla
The Turkey and the Pumpkin by Artie Knapp
GOBBLE-DY-FUN: Your Child's First Book on Thanksgiving by A. Alexander
19 Thanksgiving Crafts for Kids by Prime Publishing
Please note that Amazon prices change all the time.
All prices are accurate as of the time of this post being published, but please double check the prices before you buy.