One of the things I look forward to most in the fall is Candy Corn! I know. It's silly, but I love candy corn. The flavored candy corn that comes out with each holiday is not the same as Halloween candy corn. I don't want pumpkin-flavored candy corn. I don't want chocolate candy-corn (although I will nibble a few). I just want the normal white, orange, and yellow candy corn. If I can toss it in a bowl with some honey roasted peanuts that's even better! It tastes just like a Payday candy bar. If you haven't tried it, trust me. It's good stuff!
Candy Corn Printables
I loved using candy corn for learning activities throughout the month of October when my kids were younger. I loved using activities like the one I have created just for you. I have created a fun learning pack for your preschoolers and kindergarteners featuring candy corn.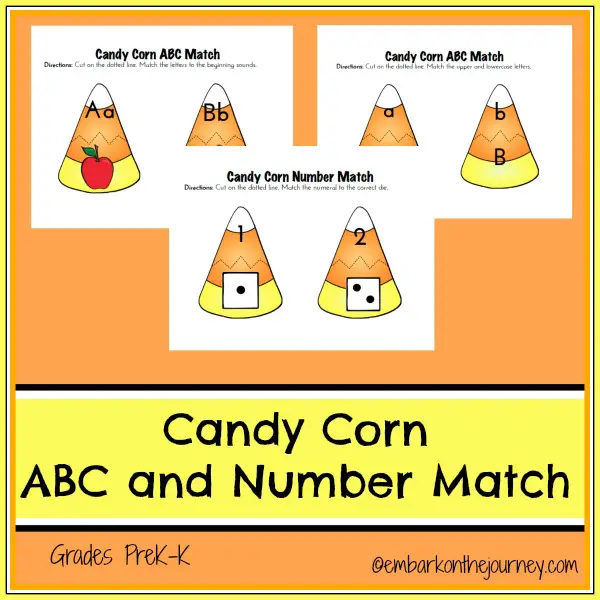 In this pack, you will find an ABC matching activity. Students will match lowercase and uppercase letters. I've also included a beginning sounds activity. Students will match their ABC's with corresponding beginning sound pictures. Lastly, students will count the dots on the dice, and match the dice to the corresponding numeral.
These would be fun cards to slip into a busy bag for your little ones to work on while you work with your bigs. Or, you can use these for hands-on ABC and number matching learning fun.
Subscribe below to download your FREE Candy Corn Match Activity pages. Don't worry. If you are already a subscriber, you will not be added a second time.
[wp_eStore_free_download_squeeze_form id=59 button_text="Download Now"]