There is currently snow on the ground and the temperatures are in the low 30's. Not exactly the conditions I imagined when I sat down to write about my latest collection of elementary writing prompts. 
However, the sun is shining, and I can see my neighbor's daffodils from where I sit. So, I'll sit close to my space heater and pretend that spring is in the air.
No matter the weather, spring really is on its way! You can get your writers ready with this amazing collection of writing prompts for April.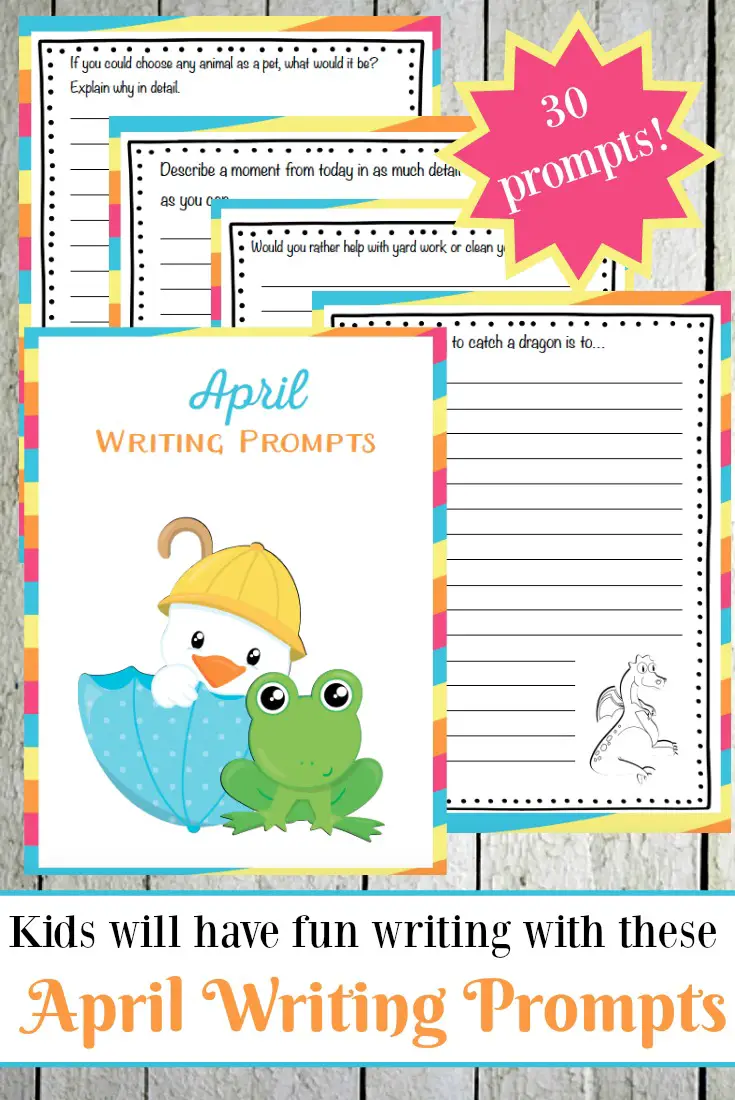 Elementary Writing Prompts for April
Throughout the month of April, kids will have the opportunity to write about Easter, Earth Day, spring, rainy days, and much more. There are a total of 30 writing prompts in this printable pack – one prompt for each day of the month. There is also a blank page for those who need more room to write.
Get your writing prompts! 
These prompts are free for one week. Get yours today!
Writing Tips
Here are a few tips to make writing more exciting this month:
Let your kids write with 

pen

. Our favorites are erasable gel pens! Emma likes to change colors as she writes each new paragraph, and I like that there are no scribbled out mistakes.
Print all of the prompts, and assemble them into a writing notebook. Let your child choose their writing prompts each day. This gives them a little more control over the assignment, and encourages them to write about what sparks their interest each day.
Don't worry about editing and proofreading each writing assignment. Just

let them write

. At the end of the week (or end of the month), have them pick a piece to edit and publish. You can go through the whole editing, revising, rewriting process at this time. This eliminates the stress that comes with producing a perfect piece each time.
Don't forget…
Every month this year, I will release a brand new set of writing prompts. By the time they've all been released, you will have 365 elementary writing prompts to use in your homeschool!
Related Writing Posts