Next week, the nation will celebrate Dr. Seuss's birthday! He is an iconic children's author. It's not hard to find a book written by him. However, kids might enjoy learning a little more about the man behind the books. So, I've compiled a list of books about Theodor Geisel better known as Dr. Seuss.
These Dr. Seuss biographies will work well as read-alone books and read-alouds.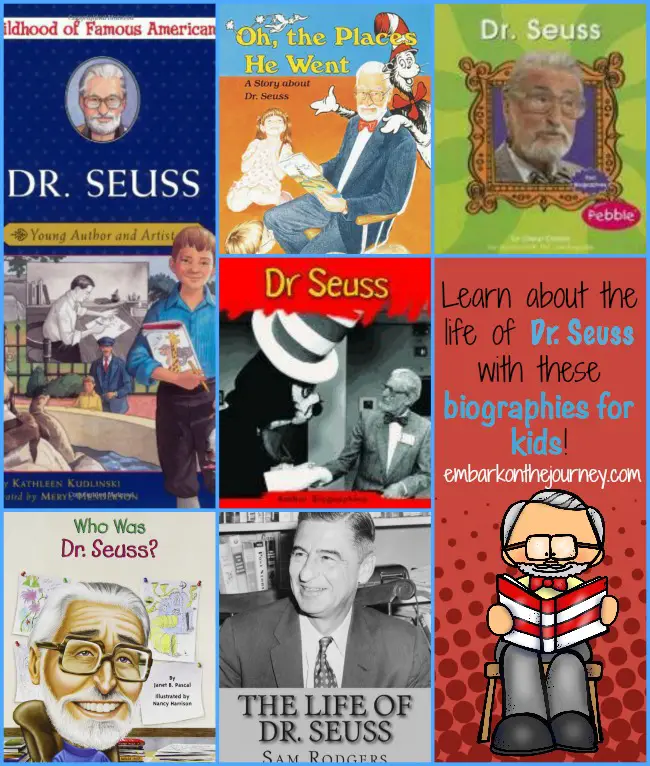 Let's read about Dr. Seuss.
Ted Geisel loved to doodle from the time he was a kid. He had an offbeat, fun-loving personality. He often threw dinner parties where guests wore outrageous hats! And he donned quirky hats when thinking up ideas for books-?like his classic The Cat in the Hat. This biography, with black-and-white illustrations throughout, brings an amazingly gifted author/illustrator to life.
The Life of Dr. Seuss: A Biography of Theodor Seuss Geisel Just for Kids!
He was one of the most brilliant men in the world. His books inspired millions of lives. But who was he really? This book, just for kids, will look at his childhood, education, marriage and work to see what made him who he was!
Oh the Places He Went A story About Dr. Seuss
Covers the life of Theodor Geisel, who under the name Dr. Seuss, gained fame as an author and illustrator of books for children.
The Boy on Fairfield Street: How Ted Geisel Grew Up to Become Dr. Seuss
This is the first picture book biography of Dr. Seuss, written especially for his young fans who want to know what made him tick. The animals in the zoo that his father ran and his fondness for drawing them, the injustices he suffered as the child of German immigrants, and his inherent sense of humor all fed into the imagination of this boy. He was a square peg in a round hole until he found that he could make a living doing exactly what he pleased—doodling and writing funny things about the world as he saw it.
Text and photographs introduce the biography of Dr. Seuss, an award-winning and famous illustrator and author best known for writing The Cat in the Hat.
Introduce students to Dr. Seuss, the author of childrens favorites like Green Eggs and Ham. This biography uses simple text structures and clear images to help readers learn about this amazing writer.
Dr. Seuss: Young Author and Artist
A childhood biography of one of the most beloved authors and illustrators of all time.
---

Now, on to this week's What to Read Wednesday link-up. After receiving quite a bit of accumulating snow last week (enough to cancel schools for the entire week), I'm featuring winter posts from last week's link-up.
If you have posts about children's literature – a favorite book, a review, learning activities – come link up with us. We'd love to see what you've been reading, and you might find yourself featured next week!
[inlinkz_linkup id=485344 mode=1]