Farm animals are so fun to learn about. That makes Big Red Barn a wonderful story to read with your kiddos as spring arrives. 
Watching the horses gallop across a field or a cow nibbling on some hay brings kids such joy. Not to mention roly-poly pink pigs and clucking chickens flapping around the farmyard.
Margaret Wise Brown's Big Red Barn
 is a fun little story that your little ones are sure to love. The animals explore the barnyard when no one else is around. The short, rhyming text is just right for little listeners and beginning readers.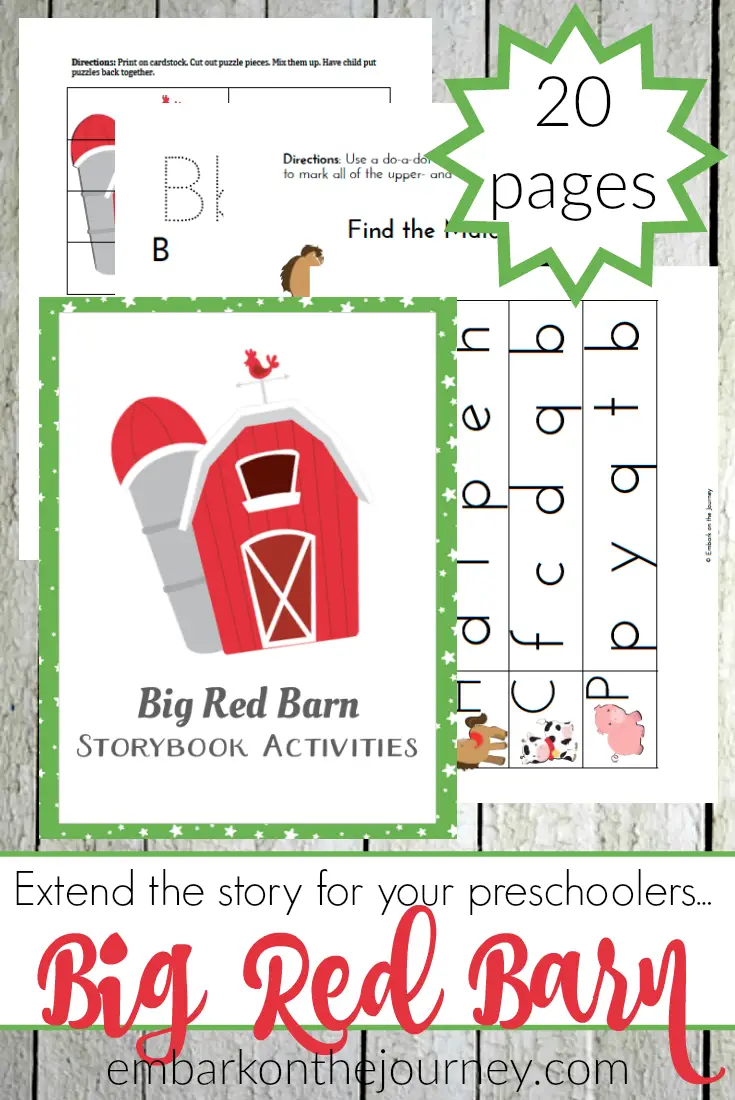 Big Red Barn Activities
Fun connections to make with the story:
Colors: Pink pigs. Golden weather vanes. Red barn. There are lots of opportunities to talk about color throughout this story. Name an object, and ask your little one to tell you its color. Or, name a color, and have your child name an object of the same color.
Action words: Action words are called verbs. Can your child act out some of the actions mentioned in the story?
Moms and babies: What are different animal mom/baby names? Pig and piglet. Horse and foal. Cow and calf.
Where does our food come from? Talk about milk coming from cows and eggs coming from chickens.
What is a farmer's job? Farmers grow crops, tend animals, etc. Have your preschooler list all of the jobs they can think of.
Books to Go Along with Big Red Barn
&
Hands-On Activities
After reading Big Red Barn with your little ones and completing some of the activity pages, choose one or more of the activities below to bring the story to life.
Teaching Resources for Big Red Barn
&
Snacks and Treats
These snacks and treats are super fun and go perfectly with a farm theme.
Here's a fun new printable for preschoolers and kindergarteners. While it was designed to be used with Big Red Barn, it would go perfectly with any farm-themed studies you are doing. Inside this learning pack, you'll find the following activities:
ABC and number matching cards: Laminate these pages, and then cut them out. Mix them up, and have your child match the pieces.
Handwriting practice: Preschoolers will practice writing the featured letters.
Shadow matching: Preschoolers will work on visual discrimination as they match each image to its shadow.
Puzzles: Laminate these pages. Cut apart the puzzles. Have your preschoolers reassemble.
and more!
Related book-based printables: