I'm busy? What? You are, too? Imagine that! Mommas tend to be some of the busiest people I know. Add homeschooling to the mix, and some days I feel like I don't stop moving from the time I get up until the time I go to bed. With that said, I don't have the desire to spend tons of time on my hair in the morning. Between breakfast, packing lunch for my high schooler, chores, and starting our homeschool day, I'm most likely to throw my hair in a ponytail or a messy bun. My Lilla Rose Flexi Clip makes even my stay-at-home, busy mom hair look good.
When I won a Hawaiian Flower Flexi Clip earlier this year, Em declared it was "not fair" that I got one and she didn't. So when my friend, Linda, asked if I wanted to review one for this fantastic giveaway, I knew I'd let Emma pick it out. She received the small Freestyle Tiara Flexi Clip. She loves it as much as I love mine!
Em and I both have very fine hair, and these clips stay well in our hair. We do need to use ponytail holders under the clips when we do a ponytail, but that's jut part of having fine hair. Maybe if we ordered some extra-smalls, we wouldn't need them, but we like the versatility of the small clips. You can see above, I used mine recently to just pull my bangs and sides back. Em used hers that day to pretty-up her ponytail. She has also used hers under her buns when she heads out the door to dance class.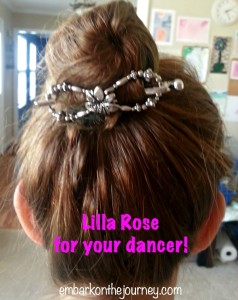 There are so many ways to use these clips! In addition to the Flexi Clips, Lilla Rose also sells headbands, hair sticks, and bobby pins. I think the bobby pins and headbands would also look great on Emma for dance! She already has a few on her wish list.
My sweet friend, Independent Consultant Linda Sears, is giving away flexi-clips to three lucky winners as part of her wonderful back-to-school giveaway! If you've never ordered from Lilla Rose, it's important to view this video which will help you determine the correct size based on your hair, and it also gives you style ideas. If you aren't one of the winners and you'd like to get some flex clips for yourself, Linda is running a special for new customers –  Buy 3 Get 1 Free —  any product from my website (freebie value $16 or less)!
A note from the hostess with the mostest:  If the winner is a NEW Lilla Rose Customer, they will select any product from my Lilla Rose Website with a regular retail value of $16 or less (excluding the current Flexi of the month.) If the winner is an existing Lilla Rose customer, they will select a prize from my inventory.