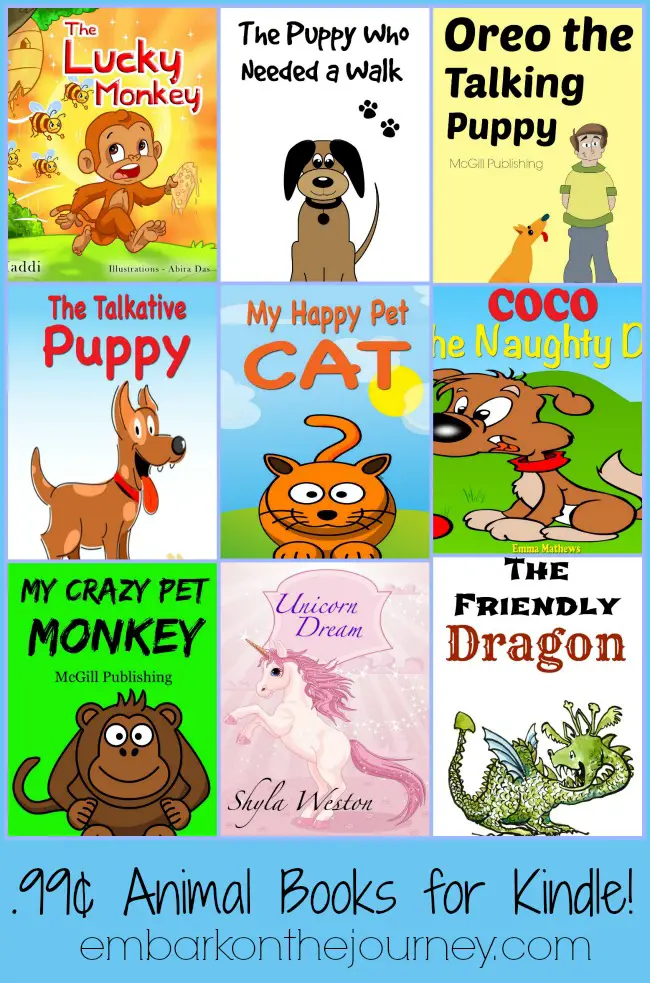 Please remember, Amazon prices can change quickly. The books below were free at the time this post went live, but may only be so for a limited time. Please double check the price before purchasing any of the books below.
99¢ Animal Books for Kindle
Pumpkin is a young puppy who is very talkative and fun loving. But sometimes talking too much puts Pumpkin in trouble.
Ginger is a happy cat who always wants to have fun.But one day, something changes it all.
Oreo is a husky who can speak English! Together, Oreo and his owner, Beth, enter a dog training competition to show off Oreo's incredible talent!
Sparky is a dragon that everyone is scared of! Because everyone is scared of him it's hard for him to make new friends. One day, he meets a boy named Jake wondering in the woods and the two become best friends.
Sarah Elizabeth loves unicorns. Unfortunately, her brother Aaron doesn't believe in them. When he asks Sarah to prove their existence, she can't. What will Sarah do?
Cindy is lying in a dandelion field behind her house and suddenly is whisked away to a castle in the clouds.
"The Lucky Monkey" tells the story of Troy, the most mischievous monkey in the whole jungle. Everyone called him a lucky monkey because he was always getting into mischief and yet, he never got hurt.
The young gorillas used to play with each other and with their best friends Rob and Sandy. They also liked to collect things. Andy collected all kind of colorful stones and Stacey loved to collect unique flowers and weave them into skirts. Rocky loved to collect feathers. He had the largest collection of feathers in the jungle.
COCO – The Naughty Dog is the story about a naughty dog, Coco who has just joined the Smith's family. Coco is the third pet of the family and everyone adores him.

But sometimes, Coco's naughty attitude and mischief put others into trouble, especially Peter, the parrot and Chansey, the cat. One day, Coco goes too far with his naughty behavior.
Rocky is a puppy who needs to get walked every single day or else he goes crazy! One day when Rocky doesn't get his walk, he decides to eat the owner's shoes. Tim, Rocky's owner, decides that it's time to help Rocky get in his exercise every single day.