These historical fiction picture books will bring your homeschool history lessons to life! Use them for read-alouds or independent reading.
I love using living books in our homeschool. They bring the lessons to life. Since my daughter is an avid reader, she usually gets through several books on her list with each topic we study.
I like to provide a variety of fiction and non-fiction books for her to choose from. I also try to choose a great historical fiction novel to read-aloud with each topic, as well.
Whether you have a child in elementary school, middle school, or high school there is a huge variety of historical fiction to choose from. Below, you'll find a large list of historical fiction picture books for your elementary-aged readers.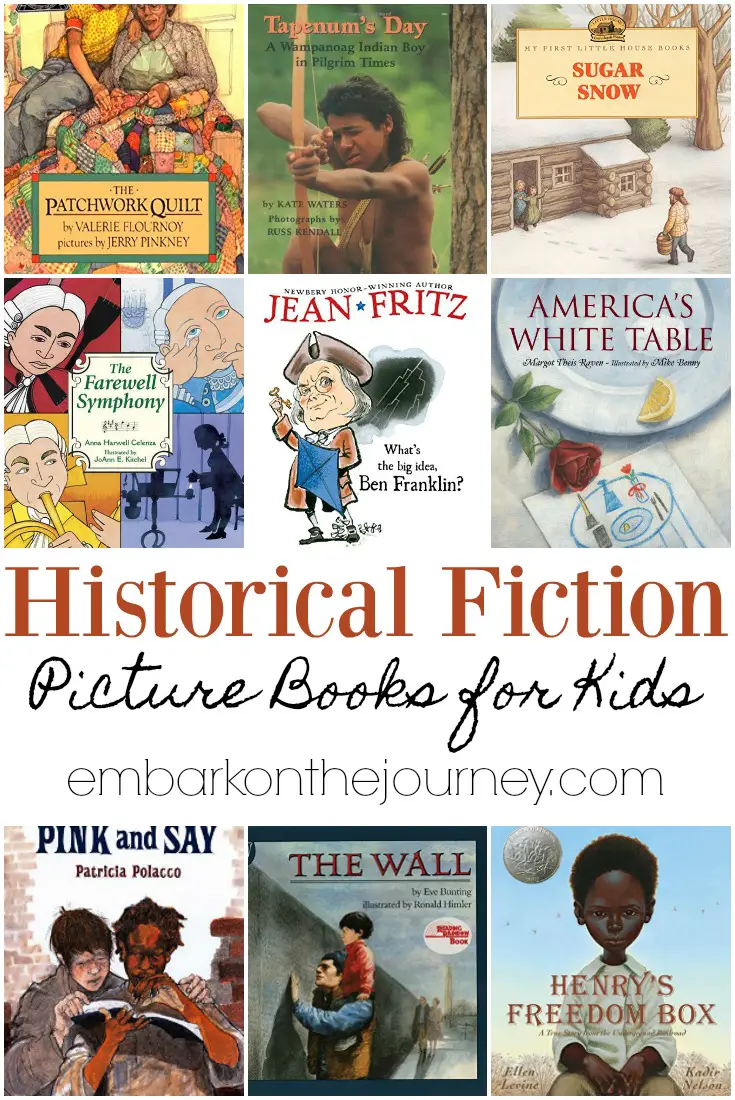 Historical Fiction Picture Books
Fill your book basket with these fun historical fiction picture books! Most of these books can be found at your library or used bookstore. If you have a hard time finding them, you can order the books from Amazon by clicking the images or links below.
Boxes for Katje by Candace Fleming | After a young Dutch girl writes to her new American friend in thanks for the care package sent after World War II, she begins to receive increasingly larger boxes.
The Patchwork Quilt by Valerie Flourney | Using scraps cut from the family's old clothing, Tanya helps her grandmother and mother make a beautiful quilt that tells the story of her family's life.
What's the Big Idea, Ben Franklin? by Jean Fritz | No matter how busy he was, Ben Franklin always found time to try out new ideas and he was also a man of many talents. He was also an ambassador to England, a printer, an almanac maker, a politician, and even a vegetarian (for a time).
The Wall by Eve Bunting | A young boy and his father visit the Vietnam Veterans Memorial.
Ox-Cart Man by Donald Hall | Thus begins a lyrical journey through the days and weeks, the months, and the changing seasons in the life of one New Englander and his family.
The Farewell Symphony by Anna Harwell Celenza | Anna Harwell Celenza's engaging fictionalized telling of the story behind Franz Joseph Haydn's famous symphony is a perfect introduction to classical music and its power. THE FAREWELL SYMPHONY brings to life a long summer spent at Esterháza, the summer palace of Prince Nicholas of Esterházy.
Seeker of Knowledge by James Rumford | In 1802, Jean-Francois Champollion was eleven years old. That year, he vowed to be the first person to read Egypt's ancient hieroglyphs. Champollion's dream was to sail up the Nile in Egypt and uncover the secrets of the past, and he dedicated the next twenty years to the challenge. James Rumford introduces the remarkable man who deciphered the ancient Egyptian script and fulfilled a lifelong dream in the process.
The 5,000-Year-Old Puzzle by Claudia Logan | It is 1924, two years after the discovery of King Tut's tomb. Readers are invited to join a young boy, Will Hunt, as he and his family become part of an archaeological team led by world-famous Egyptologist Dr. George Reisner. Based on actual records of Reisner's history-making dig, Giza 7000X, this strikingly original picture book uses journal entries, funny postcards, and quirky cartoons to pull readers into an ancient unsolved mystery.
Temple Cat by Andrew Clements |A temple cat in ancient Egypt grows tired of being worshiped and cared for in a reverent fashion and escapes to find genuine affection with a fisherman and his children.
Dandelions by Eve Bunting | Embarking on a new life, Zoe and her family journey west to the Nebraska Territory in the 1800s. When Zoe and her family arrive at their claim, nothing distinguishes it from the miles and miles of surrounding prairie. Even after they build their soddie, the home can't be seen from any distance. Zoe has never seen Papa so happy or Mama so sad. But when she takes a trip to the small prairie town with Papa, Zoe sees something that might make a difference to their new soddie, and to Mama's life, too.
America's White Table by Margot Theis Raven | The White Table is set in many mess halls as a symbol for and remembrance to service members fallen, missing, or held captive in the line of duty. Solitary and solemn, it is the table where no one will ever sit. As a special gift to her Uncle John, Katie and her sisters are asked to help set the white table for dinner.
Pink and Say by Patricia Polacco | He was wounded in a fierce battle and left for dead in a pasture somewhere in Georgia when Pinkus found him. Pinkus' skin was the color of polished mahogany, and he was flying Union colors like the wounded boy, and he picked him up out of the field and brought him to where the black soldier's mother, Moe Moe Bay, lived. She had soft, gentle hands and cared for him and her Pink.
Henry's Freedom Box by Ellen Levine | Henry Brown doesn't know how old he is. Nobody keeps records of slaves' birthdays. All the time he dreams about freedom, but that dream seems farther away than ever when he is torn from his family and put to work in a warehouse. Henry grows up and marries, but he is again devastated when his family is sold at the slave market. Then one day, as he lifts a crate at the warehouse, he knows exactly what he must do: He will mail himself to the North. After an arduous journey in the crate, Henry finally has a birthday — his first day of freedom.
Follow the Drinking Gourd by Jeanette Winter | Winter's story begins with a peg-leg sailor who aids slaves on their escape on the Underground Railroad. While working for plantation owners, Peg Leg Joe teaches the slaves a song about the drinking gourd (the Big Dipper). A couple, their son, and two others make their escape by following the song's directions.
Sarah Morton's Day by Kate Waters | At sunup when the cockerel crows, young Sarah Morton's day begins. Come and join her as she goes about her work and play in an early American settlement in the year 1627. There's a fire to build, breakfast to cook, chickens to feed, goats to milk, and letters and scripture to learn. Between the chores, there is her best friend, Elizabeth, with whom she shares her hopes and dreams. But Sarah is worried about her new stepfather. Will she ever earn his love and learn to call him father?
Samuel Eaton's Day by Kate Waters | Samuel Eaton is a young boy living in an early American settlement in the year 1627, and today is the day he will help with his first rye harvest! If he can prove to his father he's up to the task, he will be able to help with all of the harvest. But harvesting rye is even more difficult than he expected. Was he foolish to think he could do a man's work?
Tapenum's Day by Kate Waters | Chosen to become a special warrior prince in 1627, Tapenum prepares himself for the great honor by hunting, fishing, and sharing a day with friends and family, in a story that is complemented by photographs of Plymouth Plantation.
The Bravest Dog Ever by Natalie Standiford | It is one of the worst storms ever – the snow has not stopped for days and it is 30 degrees below zero. But somehow Balto must get through. He is the lead dog of his sled team. And he is carrying medicine to sick children miles away in Nome, Alaska. He is their only hope. Can Balto find his way through the terrible storm? Find out in this exciting true story!
The Great Little Madison by Jean Fritz | In the days before microphones and TV interviews, getting people to listen to you was not an easy task. But James Madison used his quiet eloquence, intelligence and passion for unified colonies to help shape the Constitution, steer America through the turmoil of two wars, and ensure that our government, and nation, remained intact.
Sugar Snow by Laura Ingalls Wilder | Laura is delighted when a soft, thick snow falls in late spring in the Big Woods of Wisconsin. A late snow helps the trees make more sap for maple syrup, and maple syrup means sweet sugar cakes and sticky fingers for Laura!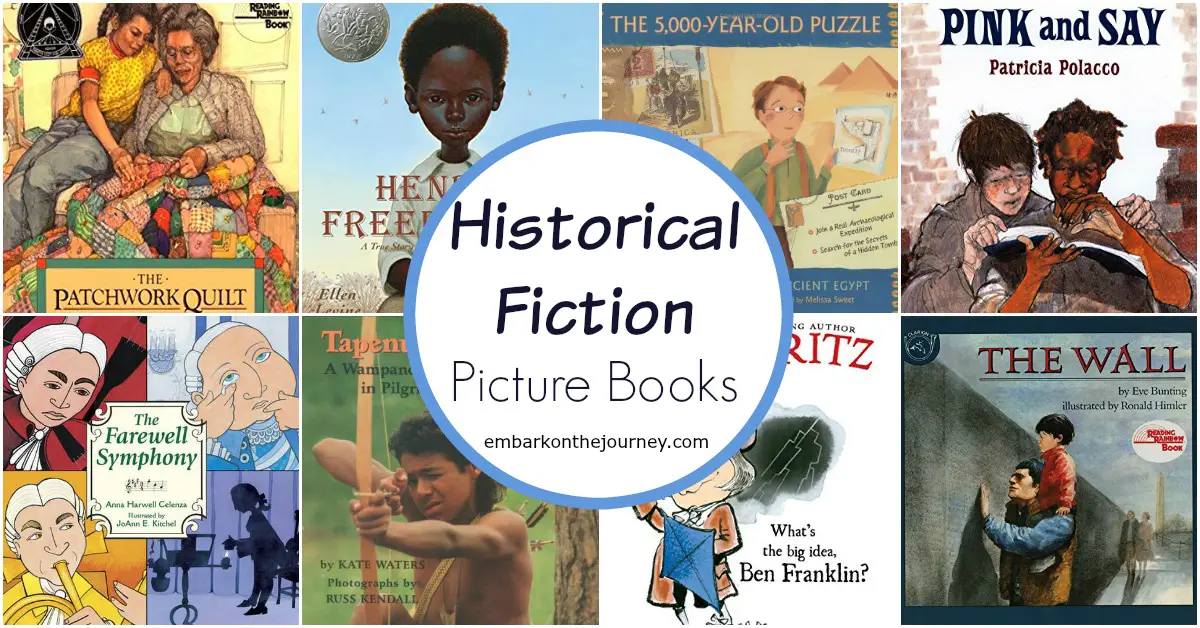 What is your favorite historical fiction book to read with your kids? Leave a comment letting me know, because I'm always on the lookout for a new good book!
Related Posts