Run! Run! As fast as you can! Grab your little ones and read about the Gingerbread Man! Every Christmas, Emma looks forward to decorating gingerbread houses with my sister. I'll do gingerbread men, but I leave the houses to her.
However, I love stocking our Christmas book basket with different versions of the Gingerbread Man stories. Here are fifteen different versions to get you started.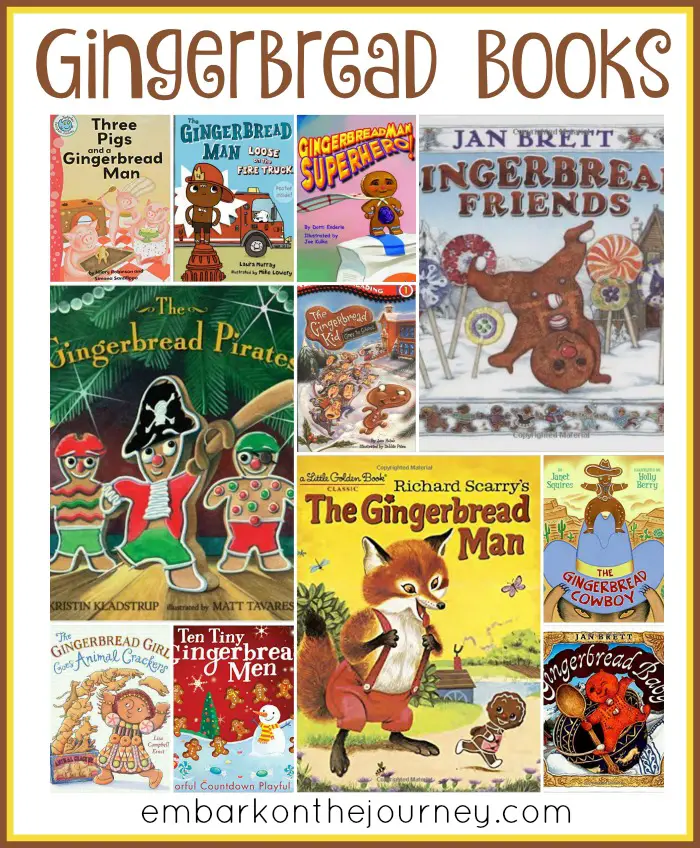 15 Gingerbread Books for Your Holiday Book Basket
The Gingerbread Bear – A sweet mom bakes a very special cookie just for her daughter. But the Gingerbread Bear escapes–and runs all over Woodlands National Park! The Gingerbread Bear is quick and manages to escape everyone who tries to catch him. But when a clever park ranger, a few campers, and some wildlife friends all come together, perhaps this tricky treat can be tamed after all.
Richard Scarry's The Gingerbread Man – "Run, run, as fast as you can!" Catch Richard Scarry's gingerbread man as he returns to Little Golden Books after a decades-long hiatus. Originally published in 1953, The Gingerbread Manmakes a perfect "Christmas gift, ready to delight any child who loves this favorite funny folk tale.
Ten Tiny Gingerbread Men – Ten gingerbread men love bouncing everywhere. Follow the adventures of these adorable gingerbread men as they count down from 10 to 1 in this peek-through counting book with glitter accents!
Three Pigs and a Gingerbread Man – The three little pigs are busy baking a gingerbread man, when the wolf comes by to 'huff and puff and blow' their house down!
The Gingerbread Family – Under cotton candy clouds a gingerbread family lives in a sugary world filled with delectably sweet images and scents. This scratch and sniff book features clear stickers that smell like gingerbread, lemon drops, chocolate, peppermint, and more!
The Gingerbread Girl Goes Animal Crackers – She's fast. She's feisty. And she outsmarted that sly fox in her boisterous debut. Now the gingerbread girl is back with a new batch of friends – the animal crackers! They don't want to listen to the Gingerbread Girl's advice, even though she is one smart cookie. But they'd betterwatch it, or they'll all become treats for that trickster fox. With fun twists on the classic refrain plus big, candy-colored illustrations, this is one sweet treat.
Gingerbread Man Loose on the Fire Truck – Guess who gets to go along on a field trip to the firehouse? The Gingerbread Man! But when he falls out of his classmate's pocket, Spot the Dalmatian comes sniffing around. Luckily, this Gingerbread Man is one smart cookie, and he races into the fire truck, up the pole, and all through the station, staying one step ahead of the hungry dog the whole time. Then an emergency call comes in and the Gingerbread Man knows just what to do.
Gingerbread Mouse – On a snowy winter's night, Mouse is snug in her bed . . . Then—crack!—a tree branch falls and destroys her house. Now Mouse must find a new place to live. With determination, resourcefulness, and some Christmas good fortune, Mouse finds not only another house but also a place she can truly call home.
Gingerbread Man Superhero! – One day, a little old lady decides to bake a Gingerbread Man. But he turns out to be not just any Gingerbread Man–this one has special powers, like the ability to fly. He flies to a bakery and helps save the other baked goods from a crazed macaroon, in this hilarious picture book for young readers.
The Gingerbread Kid Goes to School – A silly twist on the classic tale. The school principal bakes a gingerbread cookie and brings it to school in his lunchbox. When the principal opens his lunchbox, the gingerbread kid winks and jumps off the desk. Where is he off to in such a hurry?
Catch That Cookie! – Marshall knows one thing for sure, despite what all the stories say: Gingerbread men cannot run. Cookies are for eating, and he can't wait to eat his after spending all morning baking them with his class. But when it's time to take the gingerbread men out of the oven . . . they're gone! Now, to find those rogue cookies, Marshall and his class have to solve a series of rhyming clues.
The Gingerbread Cowboy
 – The Gingerbread Cowboy can run from the rancher, he can dash past the javelinas, and he can giddyup right by the cattle grazing on the mesa. But what happens when he meets a coyote sleeping in the sun?
The Gingerbread Pirates – What if a brave Captain Cookie stood up to Santa? A fresh, funny story that sparkles with all the excitement of a pirate adventure — and all the magic of Christmas morning.
Gingerbread Friends – That popular little character is back looking for friends, in an adventure he'll never forget. Confident and cocky, the Gingerbread Baby happens upon a bakery, where he dances and prances in front of a sugar cookie girl, trying to make friends. But she just stares and doesn't say a word, like all the other sweet treats he tries to meet.
Gingerbread Baby – It all begins when Matti opens the oven too soon and out jumps a cheeky little Gingerbread Bay. He leads Matti's mother and father, the dog and the cat. And a whole colorful cast of characters on a rollicking chase through the village and into the forest, staying just out of reach, daring them to catch him along the way.